Fashion & Food Panel, Trendy Treat Conversations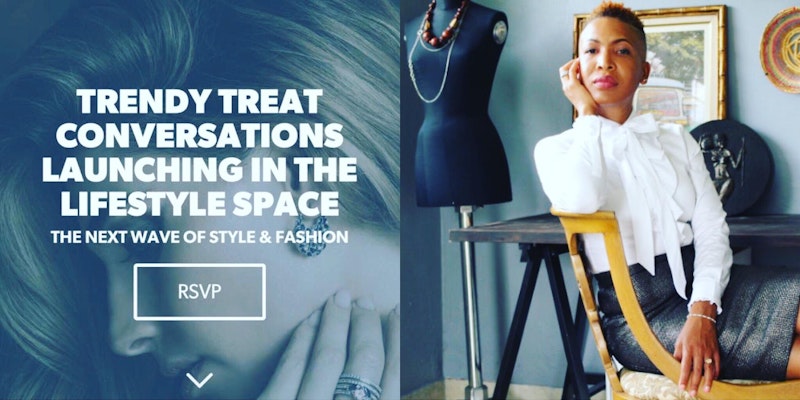 DATE AND TIME

Thu, October 26, 2017
6:00 PM – 8:00 PM EDT

LOCATION

WeWork Lincoln Road
350 Lincoln Road
Miami Beach, FL 33139
United States
DESCRIPTION
Join us for a lively conversation on the food & fashion scene in Miami. Trendy Treat Conversations connect fashio, food & art enthusiasts for engaging discussions in Dubai, Paris, San Francisco, New York, Miami & Los Angeles.
Speakers
Hugh Sinclair
Hugh Chef Irie Sinclair | Photo by David I Muir
Hugh A. Sinclair is better known as Chef Irie. Currently a South Florida resident, Chef Irie is originally from the island of Jamaica. He is a professionally certified personal chef and caterer with a passion for amazing food and great service.
Our chef, and host of Seasons 1 and 2 of "Taste the Islands", has an interesting history. He earned a Bachelor of Arts degree in Architecture from the University of Florida in Gainesville. Then he switched focus to earn an Associate's degree in the Culinary Arts from Johnson & Wales University in North Miami.
He has worked at some of South Florida's premier establishments including Turnberry Isle Resort, Charlie's Crab, Cascades and Bimini Boatyard. At these outlets, he gained valuable professional experience in cuisine far beyond that reflecting his Caribbean upbringing. Today he fuses the influence of the islands with the influence of his travels through Europe and the Far East. His audience can see his palpable love for learning about cuisine from around the world. Stay tuned for him and his new co-hosts, Haitian Chef Thia and island explorer Lisa Lee in the upcoming 2017 season starting in June on Create TV and on PBS stations around the country.

Asanyah Davidson
Asanyah received her graduate degree at Central Saint Martins in London, England and got a Master of Arts in Design Studies. She has travelled the world taking in the local fashion and culture, even teaching and working in West Africa.

Gianni D'Alerta
Director of Business Development
Gianni D'Alerta has worked in marketing for more than 17 years. He started as a designer for print and rapidly moved through the ranks into directorial positions. Gianna has had experience in fashion, jewelry & cosmetics. He launched 51 Attack, a bitcoin fashion brand.
Gianni supervises and mentors marketing teams overseeing all aspects of advertising and marketing, SEM and SEO campaigns, creative and development, and results tracking. He is also on the forefront of social media marketing and new media initiatives. It is his passion for integrated marketing which brings the offline and online worlds into compelling and results oriented directions fuels him everyday. Gianni loves to be in front of stakeholders selling great ideas that become successful solutions. He's fluent in English and Spanish but, being a technologist (nerd), he might be caught speaking mumbo-jumbo.